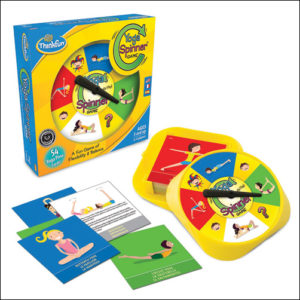 The 18th annual Therapies in the School Conference returned to Framingham, MA on November 16-17 and was sponsored once again by Education Resources Inc. Objectives of this popular conference focused on meeting the needs of all students, ranging from those with mild challenges to those having complex physical and medical challenges. With a distinguished faculty, topics were expertly addressed. In addition to providing 2 days of interesting workshops, a full day preconference on The Zones of Regulation was given by creator of The Zones of Regulation, Leah Kuypers, MA, Ed, OTR/L.
Therapro has been a regular exhibitor at this conference, drawing crowds to its booth to check out what's new, pick up a new catalog, and to purchase items they love. We met many of the 250 therapists who attended the conference, engaging in lively conversations about how to use the products in creative ways. Therapists loved new products we introduced so much that they sold out! These included: Yoga Spinner Game, the publication, From Flapping to Function, Drive Thru Menus Body Challenge, Stickbot, the robot fidget, and Wristful Fidget, a spandex wristband filled with soothing beads.
Therapists left this conference energized to return to their school-based practice, eager to use the exceptional information they gained. We hope that Therapro provided innovative ideas and tools for their therapy toolboxes!
Filomena Connor, MS, OTR/L