Creative authors, Bhanu Raghavan, MS, OTR/L and Ginger McDonald, OTR/L developed a unique curriculum for increasing independence with self-care skills. The program instructs how to teach the skills of dressing, grooming, toilet training, and eating by using a uniform approach with pictures and rhyming while employing visual, verbal, and tactile/kinesthetic cues. Each task is broken down into steps through activity analysis. In June of this year, Bhanu shared her expertise with therapists, caregivers, and children in Guatemala. Here is the account of her experience.
Visit the Self Care with Flair! website.
Bhanu Raghavan, MS, OTR/L
Self-Care with Flair! goes international once again…
Teaching basic self-care skills to children can be tedious and is often not prioritized in school or at home, even though these skills are critical for successful transition into the community. Occupational therapists are often consulted for support with this task.  A uniform approach to teaching daily living skills is critical to helping the child generalize the skills to all situations. Learning can be delayed when small differences in method and/or terminology confuse the child or when the number of steps prove to be overwhelming for the child, parent and/or teacher. Occupational therapists, Bhanu Raghavan and Ginger McDonald, authors of Self Care with Flair!, have shared their expertise in teaching self-care skills in a creative, fun way with therapists across the globe. Their methodology involves teaching self-care skills using rhymes to promote mastery and retention within a short period of time. They have based their method on evidence-based research that demonstrates that novel experiences such as rhymes and rhythm trigger the brain to sustain attention. In 2015, they presented at the British Occupational Therapy conference about their effective strategies for teaching self-care skills from their book to a packed audience.
In June 2017, when Bhanu accompanied a team of students, therapists and Professors from Xavier University (Cincinnati, Ohio) to participate in a weeklong volunteer service project in Guatemala at the Missionaries of the Highways, a clinic and residential facility for children with a variety of physical and mental disabilities. Over the course of the week, many questions about teaching self-care skills to children with disabilities arose. Bhanu shared strategies from Self Care with Flair! when she presented an in-service to the staff.  During that week, strategies from Self-Care with Flair! were shared with parents and caregivers as well. Although Spanish is the national language of Guatemala, the illustrations (300+) in the book made teaching/learning quite simple and universal.
Using Self-Care with Flair! Bhanu aided the staff, parents, and caregivers in understanding that the brain learns and retains when visual, auditory and kinesthetic cues are embedded in the teaching/learning process, resulting in success for life.
At the end of the week-long service project, the staff of the Missionaries of the Highway acknowledged the ease of use and success of the Self Care with Flair! approach to self-care activities and requested a copy of the book, which was gladly given to them (See photos).  Much to Bhanu's delight, one of the OTs at the facility volunteered to translate the rhymes in the book into the Spanish language as needs arose!  The week was a joyful learning experience for all!!
---
Bhanu Raghavan, MS, OTR/L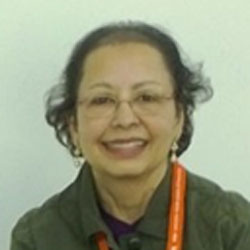 A graduate of Indiana University and The Ohio State University, Bhanu has over 25 years of experience in pediatrics. She is certified in pediatric NDT and the READY Approach (Bonnie Hanschu) for Sensory Integration Disorders. Frequently, she presents workshops on topics related to self-care independence, sensory processing disorders and fine motor/handwriting skill development to therapists, teachers and parents/caregivers. She works at Centerville City schools, OH. She is a firm believer of the following Confucian principle: "I hear and I forget, I see and I remember, I do and I understand."