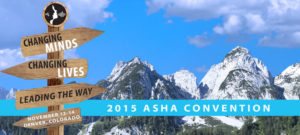 Arriving in Denver for the annual ASHA convention on the heels of the first snowstorm of the season was a good omen – we were optimistic that our 4 days there would be a positive experience for the Therapro "team."
After setting up our mega display area in the convention Exhibit Hall, we were energized and prepared to meet and greet the 14,000 SLPs who were taking part in this magnificent event. Imagine streams of people strolling through the exhibit hall, pausing to visit our booth. Having two therapists available to greet attendees, discuss products, and distribute catalogs seemed reassuring for them. We spoke their "language" and were able to introduce them to Therapro's vast product line. They loved playing games with us such as A Fist Full of Coins, Trunks, and Novenops, that are designed help students develop skills such as sequencing, working memory, following multi-step commands, creating sentences, and much more! We rolled out our newest game – Obstacles Game: A Game of Imaginative Solutions, to rave reviews.
Speech therapists sought out our exhibit, Booth #1018, to discuss pediatric feeding and oral sensory concerns. Both of us (Karen and Filomena) have had extensive clinical experience in those areas. Discussions about chewies: age appropriate chewies, durable chewies, baby chewies, school-appropriate chewies, etc. flowed throughout the conference days. Therapists loved these new oral sensory products we brought to the convention:Desk Buddy Multi Textured Tactile Ruler, Gentle Vibrations Toothbrush, Army Dog Tag Chew Pendants, and Tactile Tiger Chewable Arm Band.
Therapists enjoyed trying out these feeding therapy materials:
Products that therapists can quickly pack up and easily pull out for therapy sessions, like ConversaCards and Conversation Starter flip books were a huge hit. We quickly sold out of Interactive Reading Books once word leaked out about how functional they are; students move velcro-backed drawings to match, identify, label, sequence, and create sentences while learning to read.
Therapists sought books to add to their home libraries. Favorites were:
It was an exhausting but exhilarating 4 days filled with great conversations and collaboration among therapists. That's what it's all about – sharing information that will make our practice grow stronger and better. We overheard therapists repeatedly comment: "Therapro has what we need!" It warmed our hearts…and by then the snow had melted in Denver.
Filomena Connor, MS, OTR/L