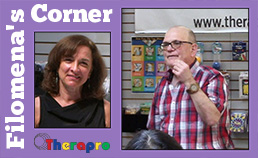 On November 16, John Pagano, PhD, OTR/L presented his Therapro Saturday Seminar, Advanced Treatment Strategies for Youth with Complex Behavioral Challenges, to a captivated audience. The energy in the room was palpable throughout the two hour talk. Dr. Pagano 's passion was evident as he discussed assessing and treating children and adolescents who have complex behavioral disorders. He shared clinical examples and anecdotes to highlight his talk, peppered with humor. Leading the audience through many experiential activities provided them with examples of practical tools to use with individuals and groups.
John is an occupational therapist who practices at an adolescent psychiatric hospital and school. He is a certified instructor of Positive Behavioral Support and Movement Based Learning Strategies. His years of experience include working in various settings including adolescent juvenile detention, psychiatric hospital, adolescent group home, and in special needs, regular education and preschool classrooms. He is the author of the recently published book, FAB: Functionally Alert Behavior Strategies: Integrated Behavioral, Developmental, Sensory, Mindfulness & Massage Treatment.
John discussed the importance of setting functional behavioral goals when providing OT, PT, and Speech/Language therapies for students with complex behavioral disorders. He frequently reiterated the value of a team approach, including ABA specialists, to working with this population.
FAB Strategies® are Dr. Pagano's evidence-based, practical strategies that use "clinical reasoning based on current clinical research and neurology to develop the individualized strategies needed to address complex behavioral challenges." John reviewed Sensory Processing Disorders, how they interact, and how to treat them using sensory based interventions. In his discussion of Sensory Modulation Disorders, John stated that his research and experience have shown that the olfactory sense is a powerful teaching tool for those with ASD and for those who have experienced trauma. He has found that pairing a scent is very effective for achieving the desired Quiet Alert state of arousal. He advocated using materials like Scented Clay and scented markers as treatment materials.
John disclosed that research supports that mindfulness strategies are an effective and powerful treatment methodology for improving special needs students' behavior and executive functioning. John led the group in breathing and movement activities that he uses with his students that also increase body awareness. John taught the group a number of quick, easy, and practical strategies to circumvent problem behaviors. For example, his FAB Turtle Strategy involves 4 steps: 1) Notice environmental & body triggers – STOP 2) Go to the sensory coping area 3) Do your individual coping strategy 4) Later problem solve with help. Fidgets like Loopeez, Boinks, Panic Pete, and Theraband were mentioned as some of John's favorites for calming.
Dr. Pagano is a dynamic presenter who generously shared resources and evidence-based, practical treatment strategies for working with children and adolescents who have complex behavioral challenges. He integrates all that he has learned in his years of experience with current research so adeptly!! Attendees left this seminar with ideas they could put to use immediately in their practice.
Take a look at some of the overwhelmingly positive comments from those who attended John's seminar:
"I left full of simple/functional strategies to try with my students, all ages. John is simply AMAZING!!!" – Christie H, Speech/Language Pathologist
"John is an excellent speaker who was very helpful, evidence based, and offered suggestions for treatment." – Renee S., Physical Therapist
"Offered many resources & activities that can be used immediately in my practice & therapy." – Rose O, Occupational Therapist
"John's sense of humor made this important topic fun. Many teachers & therapists are struggling in the classroom. These are strategies that can be implemented Monday. In addition, his strategies come from evidence based research of strategies/techniques that help our students make progress." – Jennifer H, Occupational Therapist
Thank you, John!
Filomena Connor, OT, MS, OTR
November 16, 2019