by Stephanie Kennelly
Therapro is excited to offer the Move Mindfully Card Deck, available at our store. This product helps integrate physical fitness, mindfulness and social emotional skills into practice. The deck not only offers individual poses, but also routines to address a variety of common needs, such as "accident prone" and "lethargic".
As a Blog Bonus, we are offering a free download of three poses from the card deck to get you started with a simple routine.  Read on to learn more about each pose and how it relates to your Occupational Therapy goals.
Belly Breathing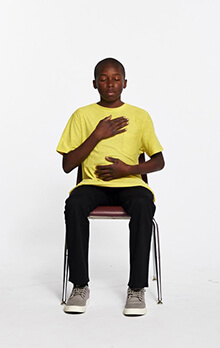 Getting into the Pose:
Belly Breathing is often taught with the Hoberman Sphere. The brightly colored, collapsible tool offers a visual tracking point to feel the diaphragm expand and contract. However, hands can simply be placed at heart and belly when teaching belly breathing as well. To start, we recommend a seated position in a chair, for back support. As a modification, this pose can also be completed laying on the floor. In this position, try a small object or toy placed on the belly for extra visualization of the up and down movement.
Therapy Resource:
Belly breathing is a great way to work on postural stability while maintaining an upright position without a collapsed trunk or slouched shoulders. This pose also taps into interoception and body awareness as breathing is tracked.
Tree Pose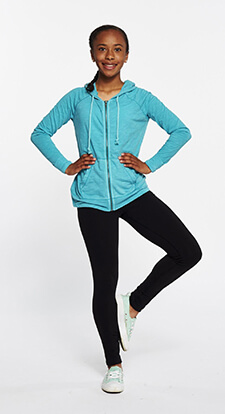 Getting Into the Pose:
Tree Pose is an introductory balancing pose that all body abilities can enjoy. We start by cueing the heel to touch the ankle. As balancing progresses, the foot can be placed on the calf or thigh. However, make sure to avoid any pressure on the knee joint. The hands press together at midline, palm to palm, providing additional input.
Therapy Resource:
Like belly breathing, this pose works postural stability through core activation in a static hold. It also works on bilateral coordination as hands and feet press towards midline while maintaining balance and focus. The stacking of joints over the anchored foot (ankles, hips, wrists) taps into theproprioceptive system. If you need additional proprioceptive input in this pose, try stamping feet before attempting to hold static. Activate the vestibular system by experimenting with the foot and hand placement.. Also, try small movement, such as swaying, within the pose. Work on vision by providing various focal points experimenting with gaze up, out, down and even eyes closed. If you see the MORO Reflex in this pose, return to Belly Breathing.
Child's Pose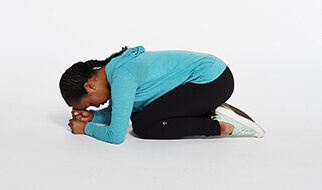 Getting Into the Pose:
Child's pose is often used at the beginning or the end of a session. However, it can be used whenever there is a need to decrease overstimulation. It can be completed on the floor or at a table.
Therapy Resource:
As you cue stacked fists, you are working on bilateral coordination and proprioception as joints are stacked together at midline. On the floor, there is the additional tactile input from the legs and arms on the Earth. Seekers may need to rock, or add extra movement to the pose, while avoiders may have to stay more upright. Offer a vestibular system modification of seating in a chair, hands stacked on forehead and chin slightly tucked.
About Us-
This blog post is a collaborative effort of Sweet Inside Yoga and 1000 Petals.
Sweet Inside Yoga is a company providing resources for occupational therapy, physical therapy, mental health practitioners, classroom teachers, yoga teachers, professionals, parents, and others in the community to use with individuals who can be found seeking and/or avoiding yoga activities.
1000 Petals is a well-being training and consulting company based on the science and practice of mindfulness and movement. They provide integrative mindfulness and movement solutions in workshops, events, retreats and self-care classes. Subscribe to their newsletter to receive weekly tips and resources on integrating mindful movement into your therapy.