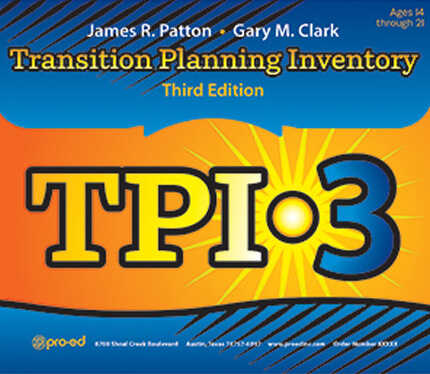 The Individuals with Disabilities Act (IDEA) of 1990 instituted a transition mandate for students receiving special education services.  IDEA 2004 expanded on this to include planning across all areas including community participation, independent living, and continuing education. The Transition Planning Inventory, now in its 3rd edition, was designed to address these mandates. As described in the TPI-3 Administration and Resource Guide, the primary purpose of the TPI-3 is "to assess the transition needs, strengths, preferences, and interest of students at the secondary level" (Patton & Clark, 2021, 14*)   The domains covered within the TPI-3 are working, learning, & living. 
Information is gathered from:
Core Rating Forms
Three forms (Student, Home, and School) Each form contains 57 statements related to transition planning.
Each form is organized according to 11 planning areas; Career Choice & Planning, Employment Knowledge & Skills, Post Secondary Training/ Education, Functional Communication, Self Determination, Independent Living, Personal Money Management, Community Involvement & Usage, Leisure and Recreation, Health, & Social/Interpersonal Relationships.
Preference & Interest Forms
Intended to gather information about a students preference and interest
Two versions available; basic (intended to be used early in the transition process) and advanced (intendended to be administered when a student is close to leaving school).
An optional Home Preference and Interest Form is also available.
Information is compiled through:
Profile & Further Assessment Recommendation Form
All information is summarized on this form consisting of 6 sections; 1.) general information, 2.) likely setting for postsecondary outcomes, 3.) student's preference, interests, and strengths, 4.) results of other assessments, 5.) student profile, 6.) further assessment and information.
Summary of Performance Data
The purpose of this form is to give users a quick and easy way to compile the information required by IDEA into a Summary of Performance (SOP) document.
Overall, the TPI-3 provides a comprehensive means to gather key information from all major players in order to create and implement a meaningful transition plan.
Quick Facts
Age Range: 14-21
Administration Time:
Student Rating Form:
15-20 minutes to complete independently
25-30 minutes if administered orally and/or with support.
The Home Core Rating:
15-20 minutes to complete independently
25-30 minutes if administered orally and/or with support.
The School Rating Form 10-12 minutes
Student Performance & Interest Form:
10 to 15 minutes to complete independently
20-25 minutes if administered orally and/or with guidance.
Profile & Further Assessment Recommendation Form
Publication Year: 2021
Authors:
James R. Patton
Gary M. Clark
Administration Type: Individual
Scoring: Inventory rated on a scale from 0 (strongly disagree) to 5 (strongly agree)
*Patton, J. R., & Clark, G. M. (2021). Transition Planning Inventory Administration and Resource Guide (3rd ed.). Pro-Ed.