Salt Lake City hosted the 98th Annual AOTA Conference & Expo this year.  Traditionally, it is the largest gathering of occupational therapy professionals in the world, with 7,000 in attendance this year! The beautiful snow-capped mountains were a magical backdrop for all the conference festivities.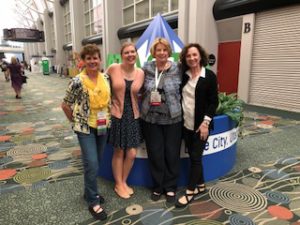 We were one of over 375 exhibitors! The Therapro crew we brought included Karen, Linda, Allyson, and me. We enjoyed meeting all the therapists, educators, students, and parents who found our exhibit at Booth1500 in the Expo Hall. It was great to hear shouts from those who strolled by with remarks like "We love Therapro!  Thanks for being here!" We were delighted that so many of our friends and colleagues stopped by to visit, including Jan Hollenbeck, Emily Zeman, Diana Henry, Melanie Potock, Jenny Clark, Tee Stock, and many more. This year we shared our booth with authors, Carolyn Murray-Slutsky, MS, OTR, C/NDT and Betty A. Paris, PT, MEd, C/NDT, along with Carolyn's husband, Herman. Their publications: Autism Interventions, Is It Sensory or Is It Behavior?, DTI: Laminated Card Series – Sensory Modulation & Positive Behavioral Strategies, and Sleep 'N Sync materials were extremely popular, even more so because Carolyn and Betty provided a workshop at the conference.
We offered visitors an opportunity to try out some new products we brought, including:
We showcased a new Chewy Tube product called the Sensory Spoon, which Karen and Filomena helped design. It is the first self-feeding tool of its kind that provides a child with tactile input to the palm, a comfortable smooth textured spoon with a natural "stop" to prevent gagging, and a bowl that helps facilitate lip closure to the spoon for easy clearing. The feedback from therapists and parents of children with special needs was very positive.
Three happy winners of the Therapro raffles walked away with Therapro products. These lucky therapists included Ester, Miranda, and Chelsey. They were excited to receive some of our favorite products in their surprise bag: TracKit, Therapy Putty, Reading Guide Strips, Sensory Story Strategy Card Deck, Novenops, and Letter Treasure Hunt.
By Day #4 of the conference, our Therapro team had sore feet, but big smiles on our faces. We had a blast meeting so many great people who loved sharing their ideas, opinions, and experiences with us. They often remarked that it was wonderful to discuss products with us because we are OTs who use the products in our own practices.
I want to leave you with a quote from Lia, an occupational therapist from Philadelphia, as she purchased a Wind-Up Ladybug and a Sensory Connection Self-Regulation Workbook: "Nothing helps self-regulation like a ladybug."
Thank you, AOTA – Salt Lake City.  We learned so much and can't wait to see you again next spring in New Orleans 2019!  We'll be ready for you!!
Filomena Connor, MS, OTR/L