Could your class or sensory room benefit from a versatile seat that will absorb user energy, enhance posture, encourage time on task, moderate repetitive motion, all with a positive sensory input?
If you've just answered "Yes" then the AlertSeats® are right for you.
Therapro has them. Available is five sizes, AlertSeats® will fit every one of your students. Choose from 5 stock sizes to provide comfortable active movement seating for pre-K students to the tallest teens or adults.
AlertSeats® have seated thousands of active learners in hundreds of schools and therapy settings throughout the US and Canada since 2009. Made in the US, they offer guaranteed durability, versatility and comfort in a proven design.
Just three sturdy components make up the AlertSeat — Base, Ball and Cover. They ship compactly and assembly easily with adjustable firmness.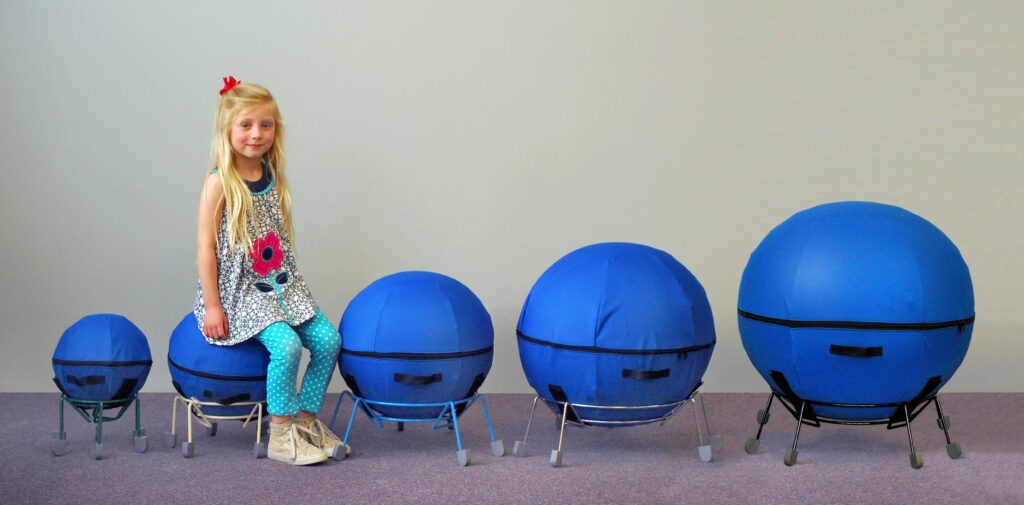 Here's what teachers and therapists using AlertSeat are saying:
"I absolutely love your (AlertSeat) ball chairs, and have been using them in my classroom for over 6 years."

Jessica- New Hampshire elementary school.
"Students seem to flourish with the use of the (Alert)seats, as they are better able to focus on the work at hand."

Indiana Life Skills teacher, students ages 7 to 12
"We're all about data. We've seen results with AlertSeats in students with a range of disabilities"

Kate, a Pennsylvania large district school-based OT
AlertSeats® steel bases feature six or eight legs and rubber feet. They're warranted for 10 years. Every assembled AlertSeats® will support up to 300 lbs. Bases nest for efficient shipping and storage, and are color matched by size. Color coded interior balls are correctly positioned inside their cover before shipment, with a manual pump included and full instructions.
AlertSeat® covers, with double zipper pulls, go on and off easily, and include strong Velcro attaching straps and a handle for a totally secure and stable but readily removable attachment to their base. Covers are sewn from an abrasion resistant laminated woven nylon fabric that is cold water washable and stain resistant.
Interior balls are heavy duty ABS molded to fit correctly and adjustable to provide the level of seating comfort that best suits each student. Ball covers and balls are warranted for 2 years in classroom service.
Optional removable mobility dollies with lockable swivel casters can be added to any AlertSeat® in all sizes except the smallest.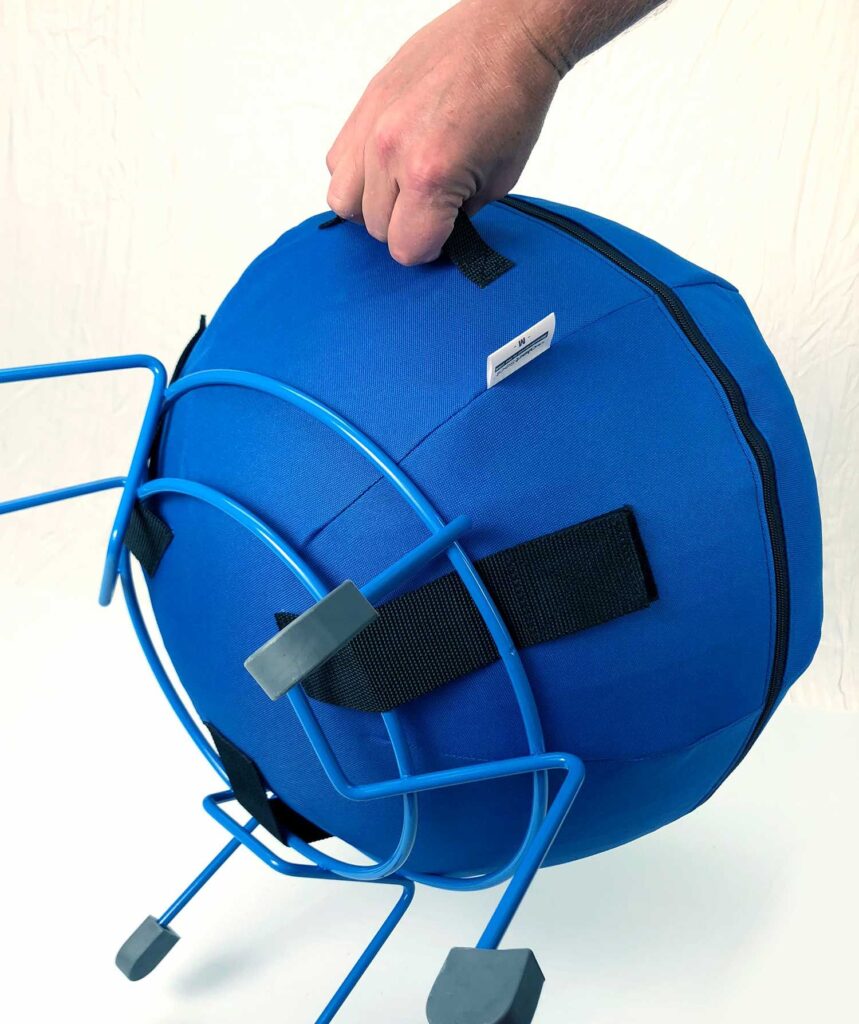 AlertSeats® in use will never roll around the room or create a hazard. They can easily be placed on top of the desk to facilitate after school cleaning. Other great features of AlertSeats® include:
No flimsy plastic parts or bolted connections to crack or fail in service.
Safety and total stability combined with stimulating, energy absorbing motion define AlertSeats® wherever they are in use.
Put a correctly sized AlertSeat® into your classroom, therapy or sensory room soon.
Guest Author: Howard Newman. Howard Newman of Newman Adaptive, introduced his unique concept of fitness and nutrition in the work place in 1991. Howard is the engineer of AlertSeat and AlertDesk.